COST: $74 Adults (age 13+)      
$64 Kids (age 4-12)  Infants Free
Includes: 30 minute Sleigh Ride, Hot Cocoa, Blankets, Dinner, Tour of Mining Camp, Campfire
Total Tour Time approx: 1H45
-Alcoholic Drinks for Purchase
New for 2018-19 season do to popular demand! Similar to our Mining Camp Dinner our Campfire Cookout is just as much fun just without the all the song and dance. Literally! This laid back time is much more like camp would have been after a long time day in the mines.  But the foods much better, we promise!  Go back in time to the Colorado Gold Rush and join us for a fun filled evening with a more casual version of our Mining Camp.
After a majestic sleigh ride through the enchanted forest, you will arrive at our 1800's gold mining camp where you can enjoy a tour with interactive characters, a hot camp style meal, and a large bonfire to have a drink, share stories, and roast marshmallows for s'mores.
Eat your fill, enjoy the eclectic company, this tour is laid back and relaxing for families of all ages. Go back in time with our colorful characters at the Golden Horseshoe.
 Sit inside, sit by the fire, or just gaze at the stars. Our campfire cookout has something for everyone.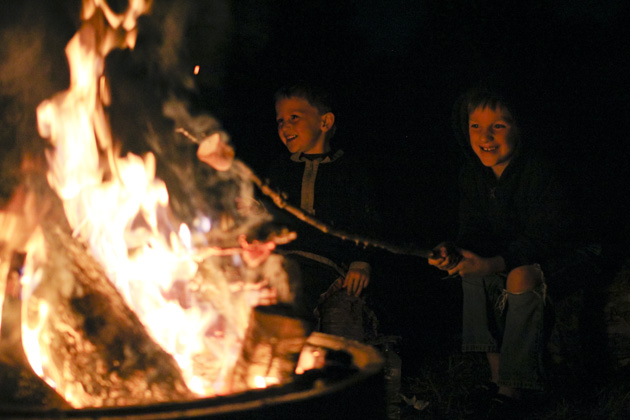 Our mining camp is chocked full of fun and excitement.  Located on a real mining claim deep in the Golden Horseshoe region of Breckenridge our camp brings back to life the way things were in this area back during the GOLD RUSH.  Before or after your delicious meal in our Saloon Dance Hall pay a visit our mine shaft, check out the miners' tent, and see our collection of local animal furs in the trapper tent.  The entire camp is full of authentic antiques and plenty of wild characters to tell stories and explain all about them.  There's a lot of stuff and you might just tire out before you can see it all but if you need a break just sit back and relax in any of our heated outdoor tents or roast some marshmallows by the warm outdoor fire.
*Prices do not include taxes and fees
*15 person minimum per evening to conduct tour